University of Life
In Service to the Well-Being of Humanity
ECO-POD
(April 2011)
The Eco-Pod is an evolutionary product, born of a desire to create an optimum environment for Human development and well-being ... and to harmoniously deliver that concept as a quality package to the world market at an affordable price.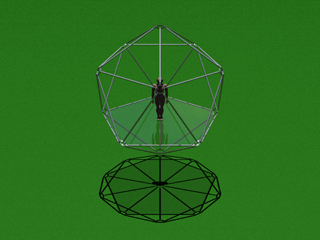 The Pod is designed as a kit, offering individuals their own personal space which is capable of sitting comfortably on uneven ground and also easy to relocate. Life-support systems are integrated within the structure so that no external hook-ups are required. Electricity is generated from solar and wind power, water is collected from rainfall and harvested from the atmosphere and waste is composted. Storage tanks and batteries are located beneath the floor.
The icosohedral frame rotates through 360 degrees facilitating panoramic views and optimisation of available solar energy i.e. Passive gain via the windows, solar thermal and photovoltaic via roof mounted collectors. An electronic control module (with manual overide) senses user preferences and orchestrates the living environment accordingly.
Construction materials have been carefully selected with consideration to environmental cost i.e. Hemp, a fast growing and soil enriching plant which is now both grown and processed in the UK, is an excellent insulation material and can also be formed into panels for the outer skin in a similar way to glass fibre.
A thick layer of insulation (300mm) assists in stabilizing the internal temperature and minimising the energy required for heating and/or cooling.
Contact: Peter - (UK) 07952 279466 - peter@icandosomething.com